Skip Navigation
Website Accessibility
May 14 2023 Lots more to see at Quilt 4 U in Columbia MO
New Fabrics: Harvest Classics: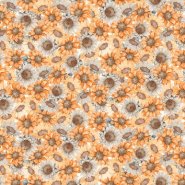 Pumpkins & Cornucopia Autumn Leaves - Black Orange Foral (Sunflowers) Corn Cobs on Lt Gray




Orange Foliage Border Print Panel #330


We have 4 kits cut and available for purchase (we can cut more if needed). This is a very classy Fall collection that would look beautiful in anyone's home. The pumpkin and Cornucopia fabric is not in the kit as it was selected for backing. We would be happy to cut the 2 1/2 yards and add it to the kit price upon request. The kit alone is priced at only $42.95. If you do want both, please call at 573 443 7858 or e-mail at info@quilt4u.com I think this collection will sell very quickly. We hope to have the shop sample available for viewing very soon.
Steampunk Halloween Haunt 2 is here!
These are a few of the fabrics in the kit:


Bats Border Fabric
Here is the kit that is now available for purchase: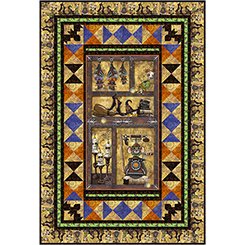 The quilt finishes at 51 x 75. The pattern did not indicate yardage/cost for binding. If you want binding, pick it out and we will be happy to cut it and add to your kit. The cost for this kit is $108.60. We only have 3 kits left.
New Notions:
This extra-sticky double-sided basting tape is excellent for sewing and crafting!

Features:
Works with fabric, paper, cork, vinyl, mesh, Soft and Stable, and more
Holds bulky/solid items that can't be pinned
Makes placing zippers, fold-over elastic, handles, and straps fast and easy
Simplifies attaching trims and appliques Use to precisely position and hold items
Narrow width and low profile
Easy-to-peel backing
Approx. size 1/8 inch x 21.8 yards
Aurifil Thread now in stock: We have the following colors - Butter, Ermine, Light lemon, Light sand, Dark brown, Natural white, Red wine, Medium Bark, White, Pale yellow, Muslin and Bark. Aurifil's Mako Cotton Thread is made from long-staple, 100% Egyptian Cotton. This 2-ply thread is mercerized, making it strong and adding a lustrous sheen ideal for decorative stitching. Aurifil Mako Cotton Thread is available in a variety of colors, and each cherry wood spool contains 300 yards.
This 80wt cotton thread is excellent for embroidery on decorative pillows, terry cloth towels, quilt blocks, potholders, and much more! Also, using a lightweight thread in your bobbin guarantees that the bobbin thread will never show up on the top of your embroidery design.
Aurifil's Mako Cotton Thread in 80wt is a slightly thinner thread making it ideal for English Paper Piecing (EPP), applique, embroidery, and free motion quilting. This fine thread helps create flat seams but is also strong enough not to be damaged when removing the foundation paper piecing. Aurifil 80wt thread is so light and smooth that the thread disappears into the seams and hides the stitches while still being strong enough to hold your pieces in place!
Quilter Mat Cleaning Pad
This handy little heart shaped scrubber easily removes dust and fabric fibers from your cutting mats allowing the self-healing mats to heal. Simply slide fingers into the opening and rub along the surface to easily remove fibers and dust that keep your mat from healing. The different ridges on the cleaner make this a hard working scrubber.
Color: Purple
Made of: Silicone
Use: Mat Cleaner
Care: Clean with warm soapy water and let dry
Size: 3in diameter
Sewing Machine Screwdriver Set. The compact size of these tools allows you to get into those hard to reach spaces on your sewing machine and other locations. The grooved handles make them easy to hold and use. Set includes one Philips and one Flat screwdriver.
Iron Carry Bag:
Made of strong, durable polyester felt, the carry bag provides stylish protection for your iron from dust, dirt, and scratches. It is practical for storage and travel to classes and retreats with its comfortable handles.
Practical Design: Large opening with smooth heavy-duty zipper for easy access.
Flexible: Open tip accommodates Solemate soleplate protector.
Perfect Fit: Specially designed for Oliso M2 Project irons and suitable for most travel irons up to 7" x 4"x 4" in size.

Designed by our team in California, we stand behind our quality and performance with a dedicated service team ready to help.
BAG ONLY: iron and accessories not included. Iron must be cold before placing in the case.
Made of: Polyester Use: Iron Carry Case
This is the Oliso Mini Iron. We have the purple in stock but can order it in turquoise or yellow.
Warranty 3 years from consumer purchase. All consumers with warranty issues should contact Oliso directly.

I'm the Oliso project iron, designs for sewing, quilting, and crafting. I have the power of a full sized iron in a compact and lightweight design, allowing me to fit next to your sewing machine or in your travel bag with ease. Includes a silicone iron rest, so you can keep the iron in the down position. Mini Iron does not have the itouch lift feature.

1000 Watts - heats up fast
Universal voltage - easily switch between 120V & 240V
Diamond Coated Ceramic Soleplate - maintains even heat and effortlessly glides over fabrics
8in 180 degree pivot cord - for full range of motion
Burst of Steam, 0.5g burst, not continuous. Vertical Steam
Precision tip - for tight spots and appliques
Fabric Selector - evenly distributes the ideal heat for synthetics, wool, and cotton.
Three Year Warranty - for peace of mind (Information Included with Purchase)
Solemate - Trivet included
Resting Side - lets the hot soleplate safely rest during ironing and protects projects.
Storage Side - easily snaps to the soleplate for easy transportation and storage.
We just received new colors of Kimberbell felt for machine embroidery in Prickly Pear, Granite, Pink grapefruit, and Black Licorice. Limited quanities available but more on order.
New Towels:
Pumpkin Seed Relaxed Retreat Time in a Garden