Quilt 4 U February 2 2023
New Kits:


The Geo Twisted Kit is now available for purchase. The cost is $80.65 and the size finished is 60 x 70 3/4. Below are the fabrics included in the kit:



+ black solid
We now have the Glisten jelly rolls (above) as well as the layer cakes.


Simple What Not's by Kim Diehl:

There are 8 small kits - one per month. This is the first one:


This is "Garden Trug". It finishes at 8 1/2 x 18 1/2. Would be a great table runner. The flowers on each end are applique which you can fuse or your use preferred method for applique.

This kit is $7.00 + tax. We have 3 cut and available for pick up. If you want one, please e-mail us at info@quilt4u.com and we can also cut more if needed.


This is Month #2 for March. The quilt is 10 1/2 x 12 1/2
and is priced at $6.00 per tax. It would look great on a small table or placed over the back of your sofa or as a wall-hanging. We do have a few available and can cut more if you are interested.
This quilt is called "Safe Keeping".
Do you love 30's fabrics? I just received a shipment of 13 bolts from RJR Fabrics of their newest collection #6 of "everything but the kitchen sink".



Navy Petal Song Orange Petal Song Vanilla Wafer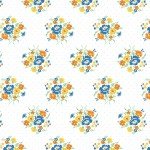 Strawberry wafer Tangarine Picking posies Sunshine yellow



Charming blue flower Mint grn flower seeds Always blue angel's



Pink hints flower seeds Blue water True Red Angel's Breath



Lemon Zest Angel's Breath

I was lucky and got another order for the Kimberbell USB case. The storage pouch is thick, fully lined, and features wide elastic bands that securely hold up to 24 USB flash drives. Slip each drive into its place, then zip the pouch up with the sturdy zipper. Please send an e-mail to info@quilt4u.com if you want to order one. Quantities are limited so order asap. Unfortunately, I was unable to get any of the Kimberbell staplers.