Quilt 4 U News - October 4 2022
New Notions:
We just received these cute sewing tins. They come as a set of two. The smaller is inside the other one. This would make a great holiday gift for a sewing friend....or for you (put it on your Santa list!).
(the 2nd out of stock- on order again)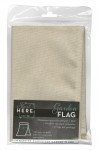 We just received this 2-pack of garden flags.
With the unique double-sided format of the OESD Garden Flag, you can say it in style! Personalize both sides with ease. Weatherproof and simple to stitch, embrace the limitless creative possibilities! Family Name & Holiday Greetings. Welcome & Goodbye. Upgrade your tailgating space! Send seasonal messages. The flags are open and unsewn on both sides for super easy embroidery. Recommended spot cleaning with a damp cloth.

We have re-ordered more of these and also some black flags.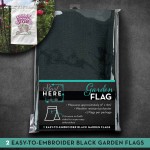 (coming soon!)
Quilter's Select Rulers back in stock:
6.5 x 6.5 6 x 12 8.5 x 12 8.5 x 8.5 10 x 10
And a new ruler: 3 x 12 (designed for machine quilting and has 2 finger holes in the center) I also have other new rulers coming soon

it is 1/4 inch thick
New Towels for the Holidays:


We have the towel in the center in the taupe with the red and white stitching.


And of course we can't forget about Halloween. Lots in stock!.


Black Nantucket Checker Towels now in stock.



New Fabrics:



Below are the fabrics in the collection. We have only fat quarters.


The Steampunk Express Quilt Kit is now available for purchase. It finishes at 66 x 90 and we have only 6 kits available.