More New Stuff at Quilt 4 U May 30 2022
Are you a girlie girl? Do you like feathers, shimmer and gold? Then you will probably like this next collection.
We have kitted the one pictured in the bottom left hand corner..
It is called Peacock Garden and the finished size is 40 x 56 1/2. It is priced at $45.60
From the same collection we will also be making kits for Prismatic shown below. The finished size is 93 x 93.
The cost for this kit is $194.48
Please note this is a paper-pieced pattern.
Below are the fabrics in this collection: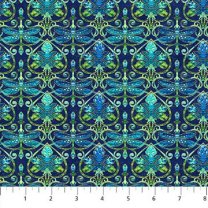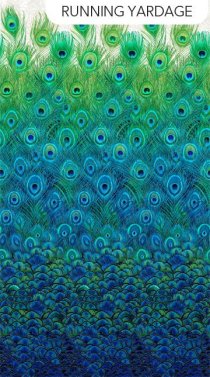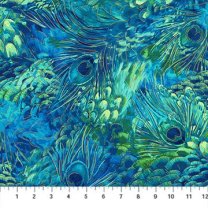 New Notions:
New smaller size - this one uses the used 28 cutter blade and we also have ones that fit the 45 blade.
Give your used 28mm rotary blades extended life by using them in the BladeSaver Thread Cutter and make cutting your chain pieced fabric projects fast and easy. Each BladeSaver comes with a magnetic case to keep your thread cutter safe when not in use or when taking it to class.

The BladeSaver case doubles as the blade stand to hold your thread cutter securely in place during use.

Clover's Mini Iron II is an extremely versatile sewing and crafting tool. The breadth of its applications is limited only by the requirements of the task. Actually we're still finding uses for this valuable tool. Some you might consider are:
- The chevron shaped tip is ideal for fine seams and is especially adept at narrow hems, tight corners, points and any place with limited access. A larger chevron shape is supplied for those applications with a little more surface area or access.
- Fine hems, small diameter tubes and fabric folding can be effectively pressed with the slim line tip.
- Ironing decorative ribbon or appliqué in place is a snap. The maneuverability of the iron and the size of the tip allow you to easily see and precisely place your embellishments. You no longer have to be satisfied with any unsatisfactory results or start over and "re-do".
- There is a knife tip for slicing and sealing many craft materials. The ball tip is a natural for shaping curves in fabric or other craft materials. Think flower petals.

40 watts/ 120 volts
- Low: Approx. 220°F/105°C
- Mid: Approx. 390°F/200°C
- High: Approx. 580°F/295°C


Color: White
Made of: Plastic and Metal
Use: Mini Iron




We are offering a T-shirt class this weekend. Sign up on our website if you want to learn how to complete one of these quilts.