Quilt 4 U May 10 2022
New Batiks:
Pansy Watercolor Tokyo Watercolor Tupelo Watercolor Waikiki Watercolor
Mahogany Watercolor Chameleon Watercolor Stone Green Watercolor Violet Watercolor
Aventurine Watercolor January Watercolor Chai Tea Watercolor Peacock Watercolor
March Watercolor Flame Watercolor Blue-Jay Watercolor Cardinal - Watercolor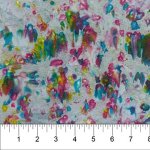 Sun Watercolor Banyan - Multi-color Fawn & Fauna - Hippo Harvest
Autumn's Finest - Chamomile Spectrum Banyan - Ink Blot - Blue Ink Blot - Dark Blue
Much lighter than show- Decode This Decode This - Green
Decode this! Med Blue Rust - Diamond Pattern Diamond Pattern
Cat Tales has arrived:
We are still cutting kits. The wall-hanging finishes at 53 1/2 x 63 1/2.
SummerTime is here! I know....it feels like it outside this week. Here's the fabric in this collection and the kits we will be
cutting. We anticipate these will be ready by Saturday of this week. Price is unknown as this point. If interested, send me an e-mail at info@quilt4u.com and I will contact you when the price for the red kit is determined.
This is the pattern. We are doing it only in the redwork option. It is called Time for Summer.
Quilt 4 U is open Wednesday thru Saturday from 10:00 - 5:00.