Quilt 4 U News April 24 2022
New Fabrics:

These are the new McKenna Ryan cotton fabrics that just arrived.

McKenna Ryan's Jewel Basin Collection is digitally printed on Hoffman's highest quality 205
thread count quilting cotton. The base cloth utilized for Jewel Basin allows quilters and
sewists of all genres to create beautiful projects ranging from raw edge applique to
perfectly pieced quilts. Hoffman's digitally printed fabrics capture countless hues of color,
exquisitely fine detail and brilliantly captivating texture. Unfortunately, the images below
do not fully capture the beauty of this fabric line.



Lake Teal Borealis Deep Teal



Dragonfly Meadow Cornflower





Bluegrass Spearmint Dusty Blue




Sky Blueberry Agua

Here are some of the quilts designed for this collection to give you inspiration and ideas of how you could use these fabrics:




Midsummer Nights Dream Digital Prints by Hoffman - 100% Cotton: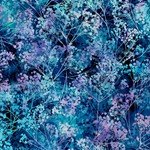 Ferns - Borealis Dots - Hydranga Flowers -Celestials





Flowers/Leaves - Turquoise Flowers/Leaves - Denim Leaves - Blue Jay

More Hoffman Fabrics:




Mint Dragonfly Lagoon Wisteria





Silver Ice Leaves - Teal gold Leaves - Olive gold Turquoise

New Notion just released:


The Creative Grids® 45mm rotary cutter is designed with you in mind. The sleek red metal body
adds weight to the cutter so less pressure is required when cutting fabric. The cushioned,
comfort grip is designed to fit your hand, reducing slips and muscle fatigue.

I have been trying it out and really like it. I have had back problems due to cutting for long
periods of time. However, with this weighted cutter and the new blades, it has really helped my
back pain. I don't have to press down so hard to reach the end of the wof.

When the button is in the center, the guard fully protects the blade when not in use. Move the
button a quarter circle to the left or right to expose the blade for right and left handed users.
The exposed blade is specifically designed to extend beyond the guard to work with the Creative
Grids® slotted rulers.

To replace the blade, simply pull down on the tab to release it and add a new blade – a one
step process.

The Creative Grids® 45mm rotary cutter comes in a protective zippered case that includes
plenty of room to store additional blades and notions.

Honestly, the new cutter/case is a bit pricey. It does come with a blade in it. I tried it and
decided the cost was worth it.

But.....let me tell you about the replacement blades:



This blade was created for the new cutter above.

However, the replacement blades do fit most other 45 cutters on the market. The Carbide Steel
blades are sharp and durable. They easily glide through fabric, vinyl, cork and more.

Do you know how much this 2 blade pack costs?

2 blades for $7.99!



Stop by the store and check it out. I bet you will buy at least one package of blades to try. I do have
30 in stock and lots lots lots more coming soon. I am guessing you may decide to purchase the
new cutter too after you try it out.



Back in stock

Get a more professional look when serging! Finish and secure your serged chained ends
with the double-eye needle. This needle has smooth rounded ends to pull chain ends smoothly
underneath the serged stitches. Large eyes make inserting threads simple.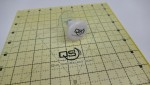 Lifts rulers without damage to fingers! Helps you accurately mark and cut your materials and
makes adjusting the placement of rulers a breeze.

Designed for ambidextrous use.

The suction cup can be easily released from surfaces by lifting up the small tab on the
soft plastic edge.