October 26 2021 - New Kits now Available at Quilt 4 U
We have had lots of inquiry and excitement on many of our new kits as store samples are being hung.
If you have expressed interest in any of the following and would still like one to be held for you, please confirm at info@quilt4u.comIf you are now interested after seeing how cute these are and would like to request one
, please e-mail us at info@quilt4u.com and indicate which kit. We will attempt to cut more and if needed order more fabrics if available.
Don't delay as we will be posting them to facebook soon.
Spooky Night - 11 kits available - 65 x 75 $75.00
Harvest Moon Wall-hanging #1 in series is 52 x 47 and is priced at $58.90 . This was the 2nd cutting for this kit so there are now 4 more available. If enough interest we will try and order more fabric for a 3rd cutting.
Harvest Moon Quilt #2 in collection is 51 x 64 and is priced at $79.20. We have 11 of these available for sale.
Yes, this is the ugly witch but that is what makes her so appealing to so many. We have 3 left. She is 65 1/2 x 80 1/2 and is priced at $84.15. This is the "Witchful Thinking" kit.
We had this one on display Saturday and everyone loved the Gnomes. This quilt is called "Gnome-antics". The finished size is 65 1/2 x 74 1/2. We have 6 kits available at $65.56. We have LOTS of the panels available for sale too!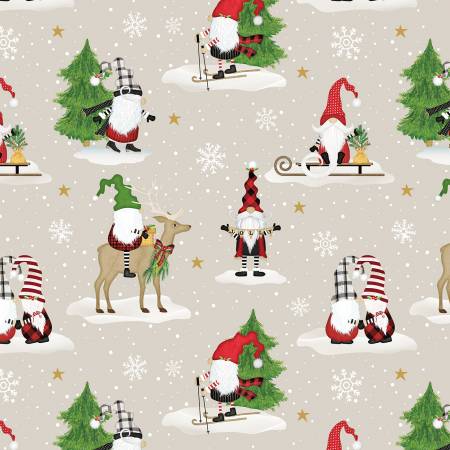 I did not originally order this fabric as it was not needed in the kits. But.....I have now and it will be here early November. What a great backing it would make for the quilt above.....or just to use in your own designed gnome quilt.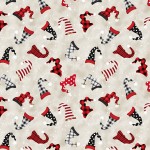 These cute gnome hats were suggested for the backing. It is in stock but is not included in the price of the kit. If you want to order either of the two above to go with a kit, let me know.
Holiday Lane is now available . This quilt is 53 x 65 and is priced at $76.75 and we have 6 available. The victorian looking houses in the quilt and the border are really cute!
*********************************************************************************************************************
We have added additional kits to our kit sale. These are older kits from the opening of our store and we are trying to reduce inventory. These are priced at 35% off and we will be sending out an updated list later this week. They are located at the front of the store as you enter.
Thanks to everyone who attended our "What's New" Baby Lock event with our Baby Lock educator Saturday. I was hoping 4 or 5 would attend to see these new products. The past two years have had so many of us cautious to attend events. I was so surprised to have 17 ladies here. Wow!
I'm confident next year will be even better so we are working on plans for next year to have a serger event with a Baby Lock Educator.