Quilt 4 U
We are now carrying Quilter's Select Rulers:




Features easy-to-read lines for marking and measuring fabric, as well as multiple angles. Each ruler has a unique non-slip coating that makes for more accurate cutting! The one-inch lines with two sets of corresponding numbers that are placed around the perimeter of the ruler can be read left to right AND right to left – which means you never have to lose your place or count backwards! Makes squaring blocks easier than ever! Available in multiple sizes.

If you are wanting to try one of these rulers, please e-mail us at info@quilt4u.com regarding the size of the ruler you are interested in. We have a few in stock and are placing another order.


In stock: 4 1/2 x 4 1/2 and 6 1/2 x 6 1/2

We received lots of new fabric in the last few weeks. Therefore. we have decided to continue our sale thru the month of August.

We have added some kits to our sale section. Currently, we have the following available at 35% off:



Moose Creek Lake *
Standing Proud *
Snow Delightful *
Starlight (in red version) *
* These can be viewed on our website at www.quilt4u.com Shop Kits Cotton Fabric kits

Special Purchase for my machine embroidery ladies: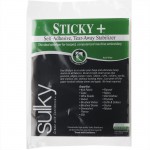 White - 22.5in x 36in. Sulky Sticky+ stabilizer is a temporary, self-adhesive, tear-away stabilizer that is ideal to use on items that cannot be hooped or are too small to fit in a hoop. Great to hold small areas like pockets, edges, cuffs, collars, etc. It eliminates hoop marks on fabrics like sweatshirt fleece, Ultra Suede, velvet, brushed velour, brushed denim, silk, flannel, knitted fabrics and caps. All Sulky stabilizers are acid and lead free!

Use Sticky+ in or under your hoop and eliminate hoop marks on all fabrics. Great to hold small areas like pockets, edges, button rows, ribbon, cuffs, collars, socks, doll clothes, etc, without basting them. Just peel off the paper-backed release sheet and apply. No heat required.


Non-Woven
Tear Away
Weight: Lightweight
Single Sided
Washing/Drying instructions: Follow Fabric Care instructions





Regular Price $8.29

o

n

sale this month for

$6.00

(we have 59 in stock)