Quilt 4 U - Time to shop before the next price increase.
The "Brilliant" is part of the Baby Lock Genuine Collection.. It is ready to handle anything from garments to home de'cor to quilts with ease. It is packed with plenty of stitches and helpful, easy-to-use features, making your next creation absolutely brilliant!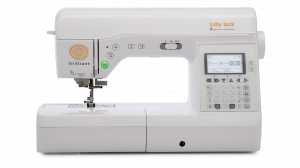 Programmable Stitches Advanced Needle Threader
We have 2 Brilliant's in stock.
We just received
2 more of the Pathfinders in
the store:
Technology Features
• LCD Color Touchscreen with touch pen
• LED Needle Beam
• Sensor Pen
• Enhanced Stadium Lighting
• 2 USB drives: 1 (Type A) and 1 (Type B)
• NeverMiss™ Threading System
• Automatic thread cutter
• Quick-Set, top-loading bobbin
with sensor
• Quick-Set independent bobbin winding
system with variable speed
• Automatic sensors
• Embroidery speed up to 1,050 spm
Embroidery Features
• 263 Embroidery designs built-in
• 140 Frame combinations
• 19 Font styles including:
o Exclusive script alphabet characters
o Large floral vine alphabet
• Embroiders up to 8" x 12" (200mm x
300mm) embroidery field
• Color Touch Screen
• Starting point key for instant alignment
of characters or patterns
• Resume Feature
• Cuts jump stitches (with on/off capability)
Embroidery Editing Features
• Combine embroidery designs on screen
• Multi-Line text function
• Character spacing
• 1°, 10°, and 90° Pattern rotation
• Design enlargement (up to 20%)
• Design reduction (up to 10%)
• Automatic basting
• Mirror imaging
Included Accessories
• Embroidery foot with LED pointer
• Sensor pen and holder
• Touch pen (stylus)
• USB cable
• Embroidery hoops and grids included
o 8" x 12" (200mm x 300mm)
o 5" x 7" (130mm x 180mm)



Next is the Crescendo: We have 3 in stock now:


IQ
™
Technology
Baby Lock machines come with features that make sewing easy no matter what you want to create. These innovative
features powered by Baby Lock IQ™ Technology, work with the "brain" of your machine to achieve the results you
desire. Taking your creative journey with IQ Technology makes it easy to bring your vision to life.
Sensor Pen for Sewing
Use the Sensor Pen to tell your machine exactly where you
want your needle and stitches positioned. You can use the
pen to designate stitch width, placement, and a stopping
point on your fabric.
Guide Beam for Sewing
Pave your stitching path with a beam of light. The
Guide Beam makes continuous stitching easy to
keep straight.



Digital Dual-Feed System




The new Digital Dual-Feed System makes it easy to achieve




consistent stitches. Whether feeding a difficult fabric or




multiple, thick layers the Digital Dual-Feed System will keep




the fabric feeding evenly for complete control.





Color LCD Touch Screen




Clearly see the details of every stitch on the large, color




LCD. The screen measures 7" diagonally and shows up




to 260,000 colors for a bold vivid display of your chosen


stitches, machine settings and more.



Enhanced Stadium Lighting




Your fabric is illuminated 10 inches around the needle,




so you'll clearly see every detail of your project. Plus,




you won't have to worry about changing bulbs with




these long-lasting bright lights
NeverMiss™ Automatic Needle Threader
The NeverMiss Automatic Needle Threader does exactly
what it promises. It's never been this fast or easy–the
Crescendo threads your needle with little more than
the push of a button.
Quilting Extension Table
Expand your workspace with the quilting extension table.
It securely fits on your Baby Lock Crescendo so you
maintain a smooth quilting surface
Larger Throat Space
Comfortably quilt with the Crescendo's large throat space.
11.25" to the right of the needle leaves room for thick
projects and bulky quilts.
These are just a few of the machines in stock. Check out the Baby Lock website for other sewing, sewing and embroidery, embroidery only and serger machines.