New Halloween Fabric - Spooky Night - Collection #2 of the 3 I have purchased or 2021
More new Halloween Fabric:
This is the Quilt we will be kitting.
This is the table runner and placemats if anyone wants a kit.
These just arrived in the store and we do not have them in inventory yet. If you are interested in a kit, let us know. We plan to cut in June and put the fabric on the floor to sell in July.
Notions: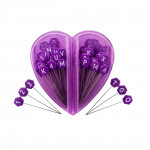 ABC 123 Cool Pins


Numbered (0-25) on one side and lettered (A-Z) on the other, ABC 123 Cool Pins are perfect for organizing your quilt pieces. At .5mm - these pins are sharp and will never leave holes behind in your fabric. As an added bonus, the pinheads are heat resistant up to 350 degrees Fahrenheit. 104 hexagon shaped pins come in a reusable storage box.

104 total pins
4 sets A- Z (0-25)