September 18, 2020
New Class: Crazy Quilting by Machine - Zoom Class from your Home Thurs Sept. 24th 1:00 - 3:00

It's time for all of us to get a little crazy - crazy quilting with our machines! Learn how fast and easy it is to use our sewing machines to piece and embellish a crazy quilt block. In this session you will learn the importance of stabilizing your piece, seaming the block creatively, and how to use your decorative stitches in fun ways. In addition, we will explore creative button embellishments, machine ribbon work, and you will get a demo on how to bead with your machine!

Many of you signed up for our zoom Quilt 4 U shopping last Saturday. It was so easy, wasn't it! Well this will be a zoom class too. Be sure and sign up asap. The supply list is shown on the website.

Saturday August 26th - Part 4 of the EQ Class by Zoom - 1:00 - 3:00 This is a zoom class for those enrolled in the prior EQ classes. We will be offering the series again at a later date fpr new students.

Machine Embroidery:


COMING SOON! In addition, we have the fabric collection too! If you want this embroidery design, order it now.

New Fabrics: Fusions Brushwork





Black Lavender Purple Stone Bluegrass





Charcoal Green Red Spice Wheat

Ice
New Batiks: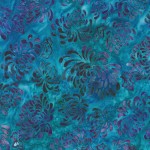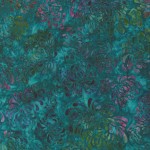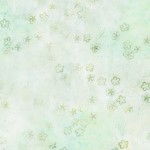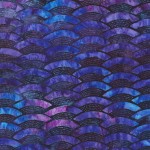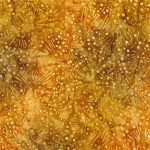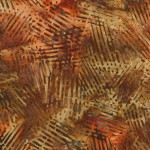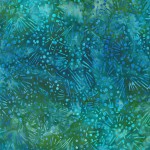 Below - Coming soon
- let us know if you want some when the shipment arrives: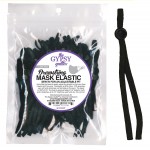 60 latex free elastic bands with buckle for easy size adjustment. Sew these bands into either side of your mask. 8 inches long
- 52 cents per pair. Comes in green, navy, red, purple, gray and royal blue or you can purchase the bag of 60.
Patterns: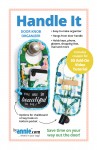 S
ave precious minutes on your way out the door.


This handy 12"" H x 5.5" W organizer fits over the door handle and holds keys, phones, glasses, shopping lists, and more.
A handy strap on back holds letters, envelopes, or newspapers, and an optional elastic strap secures the organizer to the door knob/handle.

The Handle It pattern includes instructions for two options:

• Version 1 features a swivel hook for attaching keys, creating a perfect purse organizer! Keep your Handle It hanging on the door knob when at home to ensure you don't forget it. Then, when you are ready to go, choose the perfect bag for your day or night on the town and simply slip the Handle It inside.

• Version 2 uses chalkboard fabric on the bottom pocket, making it a great place for quick reminders and daily ego boosts. Tell your family you love them, or remind your spouse to take out the trash.

Perfect for use at home, at work, or on your travels, this easy-to-make organizer makes a great gift, too!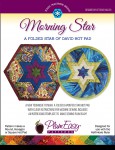 Morning Star is a folded Star of David, and is made easier with our new Half-Hexie Ruler.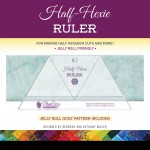 Cuts 2-1/2in Hexagons or if folded before cutting, makes a whole hexagon. For use with the Morning Star Hot Pad pattern (Item PEP-114) and Jelly Roll pre-cuts.
Thanks to everyone who participated in our on-line sale last Saturday. Everyone should have been contacted now with their order total etc. If I missed anyone, please send me an e-mail. I have received positive feed-back so we plan to offer this again in the future. If you have a friend that would be interested in knowing about the next one, please ask them to sign up for my newsletter on the website at www.quilt4u.com or e-mail me at 573 443 7858.

It has been a challenge to get Baby Lock sewing machines due to the covid 19 and difficultly in getting parts/supplies needed from various sources. In addition, Baby Lock has seen a very, very, very large increase in machine sales. It is good news that sewers want our Baby Lock products but difficult for us to keep them in stock at the store.. In July, we sent a forecast of anticipated machine purchases thru December 2020. Orders placed in July should be shipping now....then August etc. If you are interested in a machine and have not notified us, please do. We are now forecasting machines needed for Jan 2021 - April 2021.

We still have lots of products in stock for making faces masks. You can find them on our website or in the store.

A generous customer has donated her fabric collection for charity. We are assembling fabric bags for face masks to donate to local schools and Quilt 4 U is providing elastic free-of-charge. If you are willing to assist, please contact us and we will have a bag ready for pick-up.

To date, we have donated to the following schools:

Blue Ridge Elementary 90
Derby Ridge Elementary 90
Christian Fellowship school 60 = 240 to date


Thanks for being a Quilt 4 U customer.