"Let the adventure begin" with Kimberbell's "The Snuggle is Real "collection! Sweetly designed for babies and toddlers, each of the 14 patterns include a variety of techniques such as Vinyl, Embroidery Leather, Applique Glitter, decorative stitching, and more. The designs can be made in a 4 x 4 or 5 x 7 hoop!

New Notions: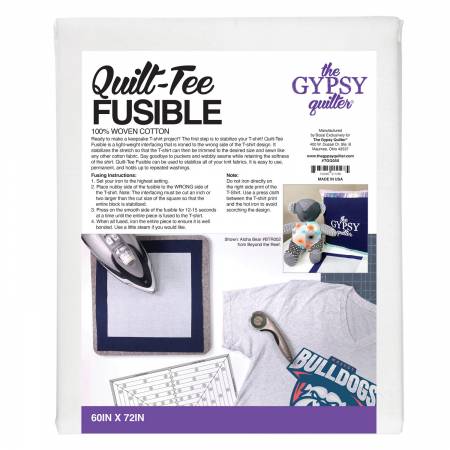 Ready to make a keepsake T-shirt project?

The first step is to stabilize your knit T-shirt! Why stabilize?
Well, first and foremost- this will make sewing and quilting the project easy as sewing with quilting cotton!
Say goodbye to puckers and wobbly seams when your T-shirt is properly stabilized.
Also, for ease in adding in quilting cotton to your project- stretch of the T-shirt must be eliminated while retaining the softness.

Quilt-Tee Fusible is easy to use. Simply apply to the back side of your t-shirt with the fusible side down and press with a hot iron. After fusing, cut out your project. The shape will be nice and crisp- no fear of distortion!
The fusible is permanent and will hold up well to repeat washing or dry cleaning. Quilt-Tee Fusible is made from 100% cotton.
*************************************************************************************************

We are making masks for the local schools. If you would like to help, we have donated fabric and elastic available. Give us a call (573 443 7858) or e-mail at (info@quilt4u.com) and we will get a bag ready for you to take home. Children will soon be going back to school. We want to help them have a safe educational experience.

Another class has been added to the website: Carol Stocking on the Serger. August 22nd 10:30 a.m. - 2:00 p.m.

We will be adding another 2-session serger class scheduled for September 19th and 26th. You will learn additional decorative stitches in this class too.