Quilter's Fighting Covid-19
I have been alarmed at the recent news of increases in the Covid 19 virus rising in many states including Missouri. Although our numbers are not nearly as high as in many of the southern states; in a global mobile society we are not isolated in a bubble.
Quilter's are very giving crafting men and women. They generously make quilts for family, friends, and charity. Many of you have used fabric scraps in the past few months making masks for hospitals, care facilities and those in need.
I have grandchildren back in daycare and soon returning to school in the fall. Most children will be required to wear face masks and many of the facilities we have made masks for may once again be in need. I truly hope more Americans will wear face masks in public and in large groups....to protect others if not themselves.
As Quilter's Fighting Covid-19, I have again ordered a bolt of the special fabric for making masks. They are shipping me a 200 roll bolt. I hope I am able to sell it and many of my customers will join in making more masks for themselves, family, friends, care facilities, and school children for this fall.
I still have a few of the Creative Grids face mask templates available. If you want one and have not received it, please let me know. If you are out of town, you can order from my website and I am happy to mail it to you. I have more on order and they should be here any day. They make masks in 3 different sizes.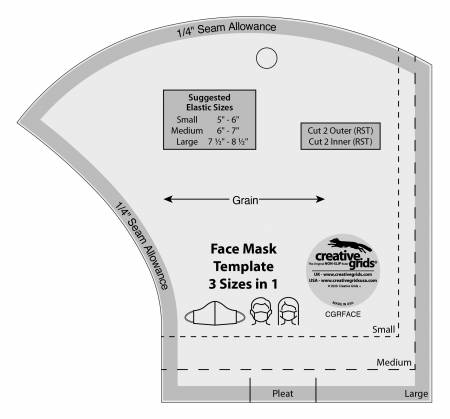 I have my vendor checking to see if I can get more of the white and blue antibacterial special fabric in addition to the 200 yards of white I have now received. If you want to be on the list, please e-mail me at info@quilt4u.com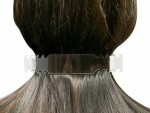 Face mask extender:
Wear behind your head to prevent elastic straps pulling on the back of your
ears. This extender greatly reduces pain behind ears from prolong wearing. $5.80 each. I have 5 in stock available for order and more coming.
Please indicate "FACE MASK MATERIAL" in your subject line.
Facemask Fabric $6.00 per yard - white available now
My shipping cost .28 cents per yard + sales tax + shipping if you need it mailed to you
Mail a face mask template (shown above) with the fabric price is $13.99
Mail a face mask extender for $5.80
Yes/No - willing to make face masks for donations
If you are interested in making masks for school children in the Columbia Missouri area, I have a quilter who has donated fabric. I am more than willing to share with you and will coordinate to make sure they are distributed to area school children in need.