What's Happening at Quilt 4 U
We are still trying to reduce inventory as new product is received each week. We are extending our sale to the end of the year 2019:
Batiks - 40% off
Moda - 40% off
Andover - 40% off
Flannel - 30% off
Christmas - 30% off
Marcus - 30% off
Henry Glass - 30% off
In the Beginning - 30 % off
30's - 30% off
Kaufman - 30% off
Kits - 30% off
Our sale on Baby Lock Machines ends on December 31st.
We also have the following specials/close outs:
Journey - only 1 embroidery/sewing
Destiny II - 1 left
Spirit - 3 left
New items: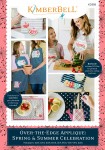 It's a Spring & Summer Celebration! Delight in the year's warmest months with darling, over-the-edge designs for an apron, placemat, and tea towel. Beautiful Blooms are a wonderful way to welcome spring, while slices of applique melon are refreshing treats for your Sweet Summer. Dimensional elements include Crocheted Edge Trim, Vinyl, and Cute as a Button(s)!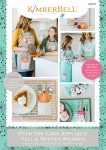 We're going right over-the-edge with Fall & Winter Wonder! Create an apron, placemat, and tea towel with adorable applique, including Pumpkins & Pies for your cozy autumn gatherings and sparkly glitter "snow" for your Flaky Friends. The over-the-edge designs are accented by textures and techniques such as fringe, applique glitter, and Crocheted Edge Trim!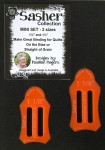 Sasher Collection sizes 1-1/8in & 1-1/4in . Great sizes for binding. Press and fold straight grain or bias strips of fabric. NO MORE BURNT FINGERS!

This is a set of two Sashers - one is 1-1/4in and the other is 1-1/8in - depending on the cut size of your fabric.
you are right - 2-1/2in strip of fabric needs a 1-1/4in sasher to feed through to a finished size of 1-1/4in.
The 1-1/8in sasher is for a 2-1/4in fabric strip (some like the slightly smaller binding.)

The fabric size is ALWAYS double the Sasher size.
The Sasher size is ALWAYS the finished size of the pressed fabric strips.
Upcoming Events:
Q4U Club Christmas Party - It will be tomorrow (Sunday) December 15th at 1:30 p.m. The store will provide the meat, rolls, and paperware. If you wish to bring a side dish, please do. We will have our gift exchange. The item should be wrapped but no name on it. We will have a cart to put it on at the door.
If

we need to cancel, we will e-mail you at 8:00 a.m.