October 11, 2019
New Fabrics: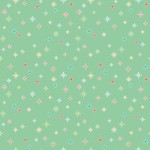 Cozy Sparkle Mint - This fabric is used in the border of Lori's Holt's Vintage Christmas book. It takes 2 1/4 yards. I just received 3 bolts. If you need some, order soon. Her fabrics go out of stock very quickly.
I have multiple bolts of the white print background fabric that should arrive soon. It is used in several of the projects and quilts in the book.
I also received 2 additional books. If anyone is wanting the Farm Girl Vintage 1, Vintage Christmas, or Farm Girl Vintage 2 books, let me know asap. I have more on order....but those too sell fast. I current have 2 of the books in stock if you would like to look at them.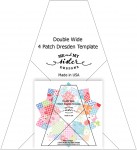 Double Wide Four Patch Dresden Template -
Make Dresden wedges from 4 Patches. Free Cherry Pickin pattern with your purchase.
Helen plans to have a class on this next year.
Quiltworks Paper-Pieced Patterns: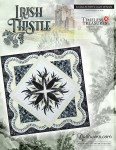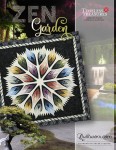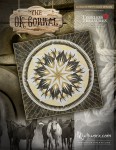 Irish Thistle Zen Garden The OK Corral
Get an ultra-fine mist every time you need starch with a refillable Spray Misting Bottle. Its design gives you an aerosol-like spray without the aerosol. Go green and refill your bottle to get the perfect mist. (We are happy to order Best Press in the gallon size if you wish for refilling - container is sold empty).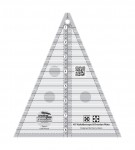 Use this 45 degree Kaleidoscope ruler to cut designs created with eight separate 45 degree triangle units such as kaleidoscopes and Dresden Plate blocks. These triangles can also be pieced into a saw tooth border. Cut triangles to a finished height of 8 inches to piece blocks that measure up to a finished size of 16 inches. A 1/4 inch dashed line is printed on each side of the center vertical line so you can cut 22-1/2 degree triangles that include the seam allowance.

The ruler comes with fully illustrated step by step instructions or scan the QR Code printed on the ruler to view a video demonstration of these features.

The ruler slides easily over the fabric until pressure is applied. Then, our exclusive gripper holds the fabric in place while cutting, eliminating slipping and miss-cuts!

Total Size - 7-1/4in x 8-1/4in

Upcoming classes:








From the Italian word for quilt, Trapunto is a technique which adds decorative dimension to quilted designs. We used two extra layers of batting and dense lines of quilting to create the trapunto effect for this sweet baby pillow on the embroidery machine. The bottom border of pink or blue is pieced in-the-hoop to finish the phrase "....is sleeping." Additional borders with pompom trim and hanging tassels are added on the sewing machine to make a cover just right for Kimberbell's 9 1/2 x 5 1/2 rectangle pillow form. Place it on the doorknob whenever baby goes down for a nap as a gentle reminder for big brother or sister to play quietly. November 1 Kimberbell Club 10:00 - 1:00 $20.00

O

ct

ober 12, 2019 8:30 a.m. Q4U Club for Club members -- We will have a guest presenter tomorrow who will be doing a show n tell and then a demo. Most items needed will be provided to you but if you have 1. a crewel needle - needs a sharp point and a large eye 2. embroidery hoop 3. sharp scissors please bring them. We will then have some kits of material etc. made up for you.

Please e-mail us at: info@quilt4u.com if you will be attending so we will have enough kits ready. We will have a few extra but a head count would be helpful.

October 12 1:30- 3:00 Kimberbell Club - Option 2 if you were unable to attend last Friday. $20.00

November 1 10:00 - 2:00 - $20.00 - Sign up for classes on our website.


We can cut additional blocks of the month for Amish with a Twist. The cost is $9.00 per month plus shipping if you need it mailed to you.