If you LOVE wool, this design has SEW many options! This is the foundation pattern that includes 3 finishing options for you to use our monthly "themed" Center Circle Woolen Mats (sold individually) that are intended to be the "O" in the word "HOME". It includes a scalloped penny mat , wall hanging and woolen mat that will be sure to cater to many! Sizes: 20in x 40-1/2in & 13-1/2in x 34-1/2in.


January Center Circle for mat above
July Center Circle for Mat above (more months available)

Wool Ornament Patterns:


3 Vintage Tree Ornaments
Red Wagon in the Pine Tree


Frosty in the Pine Tree Ornament
Vintage Truck Ornament - January


Vintage Truck Ornament - December
Vintage Church Ornament

New Notions: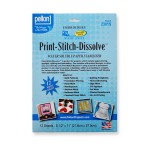 Water soluble paper stabilizer. Perfect for projects with paper piecing, applique quilting and embroidery. Get creative with printed designs or draw directly on the paper. Tears away or dissolves in water.


Stabilize It!™ pre-cut embroidery stabilizer. Large package of cut-away stabilizer contains 50 sheets, size 9" x 12-1/2" to fit 5" x 7" hoops. Provides excellent support and stability without bulk. Soft and non-irritating, making it great for knits and children's wear. The no-show mesh works well for lightweight fabrics, eliminating the backing shadow made from nylon, it has superior resistance to shrinkage during laundering and resists stretching during the hooping process. Use it for embroidering light to heavy stitch counts in a large hoop size. Can be used in multiple layers for added stability on medium to high stitch count designs. Ideal for embroidering on any fabric type, particularly: knits (including golf shirts, T-shirts, and sweatshirts), fleece, loosely woven fabrics (including afghans and baby blankets), and stretch fabric (including 2-way and 4-way stretch)
Books: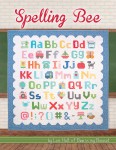 Spelling Bee by Lori Holt


Designed with the absolute beginner in mind, this book also serves as an excellent refresher course. It offers a handy guide to embroidery by both hand and machine, with practical advice on equipment, materials, methods, and techniques.
Readers receive step-by-step instruction for preparing and matching threads and fabrics, working with hoops and frames, and transferring designs. An illustrated stitch directory shows how to complete more than 70 types of stitches, arranged by families for ease of reference. Simple practice projects are provided for making a bag keeper and a peacock cushion cover.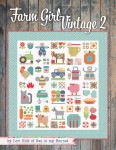 Welcome back to Lori Holt's farm with Farm Girl Vintage 2! It's Sew Emma is excited to bring even more quilt blocks and projects for all Farm Girl Vintage fans to enjoy. Lori has rounded up 45 unique 6" and 12" quilt blocks inspired by her rural roots. She has also designed 13 new projects in this book, including quilts, pillows, a pincushion, and of course a fantastic new sampler quilt! As always, quilters can mix and match quilt blocks from Lori's previous books, so they can piece together endless possibilities. Farm Girl Vintage 2 is wonderful for classes, swaps, retreats, and quilt shops can also bundle them with Lori Holt's other books, such as Farm Girl Vintage, Spelling Bee, and Vintage Christmas.

- THIS BOOK IS A PRE-ORDER AND DUE IN STORES SEPTEMBEER 15TH. IF YOU WOULD LIKE A BOOK, PLEASE E-MAIL US ASAP. WE ARE IN THE PROCESS OF ORDERING HER FABRICS NOW.

Machine Embroidery: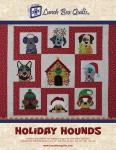 Eight festive hounds take a holiday selfie to create this colorful Christmas quilt. These hounds are ready for the holidays along with a dog house decorated with Christmas lights and candy cane bone treats. This quilt will delight all dog lovers! Makes an excellent companion to the Christmas Cats quilt pattern. (10) Holiday Hound embroidery designs. Quilt pattern is included to make a 37" X 45" Quilt and a 18" x 29" Wall Hanging. Pattern includes redemption code and CD Embroidery designs in the following formats: .art .dst .exp .hus .jef .pcs .pes .sew .shv .vip .vp3