Q4u News and More
New Machine Embroidery Designs: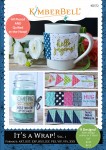 For a personalized gift that's totally fun to stitch, It's a Wrap: Volume 1 has nine designs, perfect for pairing with a hot cocoa, coffee cup or candle jar. Pieced and quilted in-the-hoop, the mug hugs feature modern repeating lines and motifs that look like custom quilting. With sentiments to motivate and bring a smile, thank a friend, or give love to grandma and grandpa, each wrap is unique. This set of instructions shows the process for piecing the Flying Geese wraps.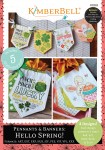 Sunshine and stitching is just what Dr. Kimberbell would prescribe after a dreary winter. Four darling pennants welcome Spring, celebrate St. Patrick's Day, and scatter good luck, with excitement for Easter. We've added sparkle with glitter applique and pretty pastel fabric and thread. Embellished with ribbon ties, pennants may hang independently or can be strung together to make a banner. Each design can be stitched in five sizes. Extra-small pennants are precious for ornaments or mini garland
New Notions: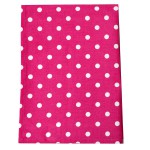 These beautiful towels are made of 100% cotton and are machine washable. The towels are perfect for applique and hand embroidery. Size is 20in x 28in. You can cut these in half and use them as placemats. The dots are spaced at 1 1/2in between dots.
These are wonderful towels to sew on and applique on. Add a bottom fabric edging for a specific desired look.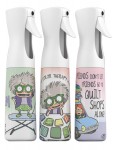 This bottle can be used with liquid starch sprays i.e. Best Press, Flatter, etc., as well as water. Get better coverage with your starch. Engineered with multi-patented technologies to deliver remarkable spray every time. Superior ergonomics makes it delightful to use and its spray performance is truly remarkable Continuous spray, repeated actuation produces an endless spray, allowing large areas to be covered quickly and easily. 360 degree spraying options allows all areas to be reached. Less hand fatigue compared to standard trigger and finger tip sprayers. These bottles hold a minimum of 300ml (about 10oz).
New Layer Cakes:
Palermo - Teal Palmero - Black Floral Impressions - Black
Sun Valley Essence of Pearl Each layer cake has 41 - 10 x 10 each pieces
Coyote Cowboy:






Adventures in the Sky:

Wild and Whimsy
Upcoming Events:
Saturday 8:30 a.m. - 10:00 a.m. Q4U Club - $20.00 yearly membership
02/09/19 1:30 p.m. Kimberbell Club - $20.00 - you will be making the Hello Winter Pillow
(We will be doing a make-up of both the January and February meetings due to the
prior cancellations-additional dates to be announced later)
Tuesday 5:30 p.m. - 7:30 p.m. Serge Ahead with Linda Bratten
02/12/19
Weekend Quilt Retreat 10:00 - 9:00 September 15, 16, 17