January 10, 2019 more news from Q4U
New machine embroidery designs: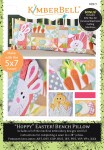 Peek-a-boo bunnies and downy chicks join the parade of pretty pastels for Kimberbell's newest release in our popular Bench Pillow Series. The "Hoppy" Easter Bench Pillow features pieced and appliqued blocks with darling dimensional elements. We love the polka dot glitter eggs and fringed fluff for wings on the just-hatched chickens. Floppy bunny ears are stitched separately, then attached to each adorable face under the applique in both sewing and machine embroidery patterns. Sprouting copper carrots are made from glitter applique too, with loops of green ribbon forming the carrot tops.
Approximate size: 16in x 38in (We can order the sewing version if you do not have an embroidery machine).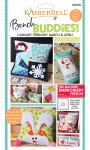 What does every Kimberbell Bench Pillow need? Bench Buddies! Introducing a new coordinating petite pillow series following the format of our popular bench pillow patterns. Make a new pillow cover for each month, then switch out the pillow form as the season and holidays change. Two different designs for each month fit our 8" square or 5-1/2in x 9-1/2in rectangle pillow forms. All embroidered designs can be stitched in a 5 x 7 hoop. Choose complimentary fabrics and stitch the pillows as a set. Bench buddies are completely cute propped on a shelf for decoration too. From snowmen to bunnies, and hearts to shamrocks, the first set of Kimberbell's new series features designs for January, February, March, and April.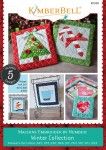 Kimberbell's original Machine Embroidery by Number project CD features a cool collection of five loveable Winter icons. With the look of paper piecing, each section of fabric is sewn with precision on your embroidery machine. Crosshatch quilting and optional ribbon loops for hanging complete the mini quilt in all five sizes. From extra-small to extra-large, you'll find many ways to display and use each one—coaster or mug rug, potholder or placement, seasonal ornament or home décor. The smallest size even makes an adorable pin cushion. Winter collection includes: Heart, Tree, Snowman Face, Candy Cane, and Cocoa Mug.
New Hemingworth Thread Colors have arrived:
Antique Lace, Burnt Sienna, Pumpkin Spice, Pale Caramel, Split Pea, Buttercup, Spring Leaf, Light Avocado, Cherry Wood, Winter Rose, Dark Slate, Warm Earth, Deep Walnut, Sweet Pea, Ecru
Freestanding Lace Angels - 24 for 4 x 4 hoops and 2 for 5 x 7 hoops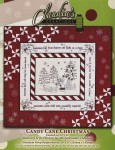 Candy Cane Christmas - Finished size 39 x 42 min. hoop size 10 x 6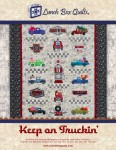 Keep on Truckin - Wall hanging 25 x 39 or quilt 49 x 64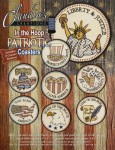 In the Hoop - Patriotic Coasters - need stitch field of 5 x 5
New Patriotic Fabrics: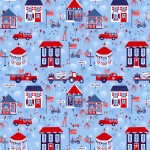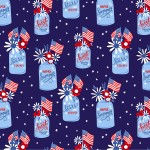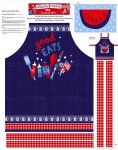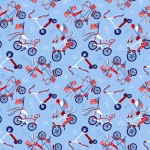 Town Parade Patriotic Jars Apron Panel Light Blue Bicycles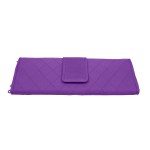 Sewing Machine Feet Organizer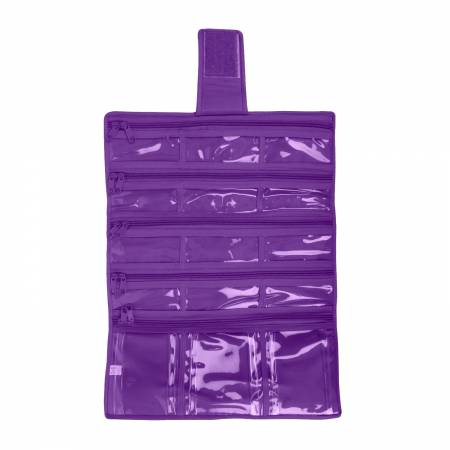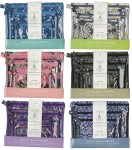 The organizer for all your essentials. Secure transport and fresh style for your organizational needs and more. Three sizes 11in x 9in, 9in x 7in, 5in x 7in Durable canvas with transparent front. Asst. styles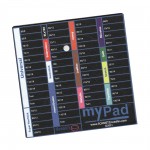 Don't throw away a perfectly good unidentified sewing machine needle again! MyPad for Needles™ has brightly colored cells designating needle types and sizes to keep track of your slightly used needles until the next sewing project. Simply slip the needle into the appropriate cell on this super thick felt pad and you have it marked for the next time. There is also a flower pin to designate the needle that you are currently using in your machine. Almost every needle type is represented and there is ample space for you to designate unusual needles yourself with cloth and pen marker. You will love the way this product combines function with pleasing design. At last, the answer to our needle frustrations! Size: 6.75" x 6.75".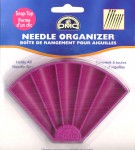 A compact way for stitchers to store and organize their needles. Each needle organizer contains five storage compartments with rounded slots for easy removal of needles. The clear snap-top keeps needles within view while holding them securely in the case.