Upcoming Classes at Quilt 4 U
Good news! We finally received our Kimberbell Club project information yesterday. We thought we would have to cancel the January session....but everything was received just in time so we are gong forward. You will have a choice of Friday (tomorrow) at 10:00 a.m. or Saturday after our regular Quilt 4U Club at 1:00 p.m. We will be teaching the same project both days but are providing alternative dates to try to accomodate everyone. The class will be $20.00
each month and will include a thumb drive with the design (s) fabric kit, and pattern instructions..
You will need to bring the following:
cut away stabilizer
kimberbell tape
basic thread colors - red/burgundy, black, navy, white
embroidery machine (need 5 x 7 hoop)
small cutting mat and ruler ( we will have a couple set up in the shop)
small iron/clover iron
embroidery scissors
Optional: dry erase pen
plastic sleeve to put your paper instructions in
You will be doing a different project each month. We will be making the "Friends Warm the Heart Mug Mat this month.
(2nd picture shown below).
Please sign up on our website at www.quilt4u.com - You will need to select the class you wish to attend, click "add to cart", and then proceed to check-out.
Bettina Havig will teach a Medallion Workshop, Jan. 26, 2019 at Quilt 4 U. Several people have asked about that particular workshop so Marilyn Wine and I have scheduled a full day workshop for Jan. 26, 9:30-4:00.
Registration can be made with Quilt 4 U or with Bettina. See description below. Workshop fee is $45.
"CLASSIC ENGLISH MEDALLION"- 21st century style" Classic English Medallion (Frame) style quilts are explored with an eye to 21st Century techniques. The ten basic pieced units are constructed by cutting only three size strips. The workshop provides information for planning a medallion quilt including fitting the border sequences for a stunning result to put this classic style in your reach. You may defer the choice of central medallion until after you learn the framing units and plan your quilt.
Supple list sent on request: bettinaqc@socket.net

Saturday January 5th is our 1st Kimberbell "Broomhilda" Quilt.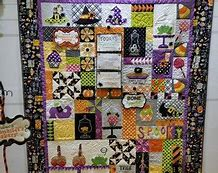 Broomhilda Supply List
- Broomhilda book w/CD - purchase at Q4U
- Broomhilda fabric kit - purchase at Q4U
- Zip Lock Bags (for cut fabric) need about 30
- Removable Labels
- Rotary Cutter
- Cutting Mat (small one will work)
- Pen to write on labels
- Ruler for cutting
I cut my book apart and put in plastic sleeves...
if you decide to do this as well I recommend...
- a dry erase pen to write on the plastic sleeves.
No machine is required for the first class as we will be cutting and organizing our fabric.

Sign up on our website at www.quilt4u.com