New Blocks of the Month at Quilt4u
We will be starting a new block of the month in January: Mrs Miller's Apprentice.


The quilt features sampler blocks in a traditional setting for the quilt center. A stunning pieced border was added to finish the edge of the quilt in grand style!

Mrs. Miller's Apprentice fabric collection features a selection of light and blue prints in various shades to give sparkle to the quilt.

Each month you will journey to the mid-19th century and read a fictional diary written by Mrs. Miller as she tells the story of meeting young Ellie who just moved into the neighboring farm with her widower father. When Ellie shows interest in learning to piece quilt blocks, Mrs. Miller takes her under her wing, and not only teaches her to piece, but helps her learn many other housekeeping skills she will need to know. Every month you'll join them in creating a beautiful variety of sampler blocks and read the diary entries telling the story of their budding friendship.

The small blocks in and around the center star in the quilt center are those made by young Ellie as she learns to piece.

This will be a stunning quilt to add to your collection or as a wedding or holiday gift next year for someone special in your life. The quilt finishes at 77 x 89 and the cost is $20.75 per month. All participants in our block of the month will be able to purchase additional fabric from the collection at 25% off at the end of the year.

If you want to participate, please sign up asap as our last block of the month (Pieceful Pines) sold out very quickly. If you live out of town, we are happy to mail your monthly kit for the price of the postage. Let us know at info@quilt4u.com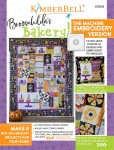 Size 51 x 64




We are starting a machine embroidery block of the month the first Saturday of each month. This year we will be doing Broomhilda's Bakery. This was extremely popular and we have been waiting for the 2nd printing of the fabric to arrive. It is here....kits are cut...and we will be starting in January.

Techniques you will have fun with are chenille cupcakes, glitter frogs under glass, glitter heels, dimensional flowers, prairie point cake plate, in the hoop pieced flying geese units, mylar eyeballs, candy corn, fuzzy fringed spiders and more!

The cost of this project is:
Fabric Kit $79.50 (includes borders and binding)
Embellishment kit $23.96
Pattern book and CD $79.50
Teacher Fee o- $10.00 per month*****

***You can come to all sessions or just the ones you need help with.

There are extra projects that can be done such as "Apothecary Jars" wall hanging, "Suspiciously Sweet" Table Runner, "Under your Spell pillow", "Smell my Feet" Tea towel, "Face first" chenille cupcake. We should have lots of additional fabrics available for purchase if you want to make the extra projects. These would be at 25% off if you are doing the Quilt.

If you would like to participate in the Broomhilda Block of the Month, please email us (info@quilt4u.com) asap so we can cut a kit for you. We would love to have you join the group.