Quilt 4 U - August 19 2018
All remaining fabric from the "Legendary Loves" Block of the month has been moved to the floor and is now available for purchase. Reminder to all of our BOM participants - you can purchase this fabric for 25% off for backing, pillow-cases etc. We have a fairly large selection remaining.
Below are some of the machines coming from BabyLock and a few of their features:
Joy -
Perfect for beginning sewers looking to add to their crafting opportunities or make small sewing projects.
19
built in stitches
Jubilant - 80 built in stitches - built in needle threader - drop feed for free motion quilting
Zeal - 25 built in stitches - built in buttonhole, built in needle threader
Zest - 15 built in stitches - front loading bobbin - 4 step buttonhole
Brilliant - 190 built-in stitches - LCD screen - hands free knee lift - advanced needle threader
Accomplish - 1500 stitches per minute - hands-free knee lift - build in telescoping thread stand
New items arriving this week (let us know if you want us to hold any for you when they arrive):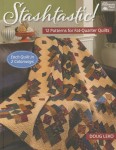 Stashtastic! new book by David Leko.
Quilt patterns for fat quarters are a perennial favorite - most every quilter has a stash of them. With 2 colorways for each gorgeous quilt; quilters will be twice as inspired to cut into the fat quarters they have. Each quilt is shown in warm, cozy colors and in brighter, more contemporary fabrics, so you can envision your collection in each pattern.
Wire-o Bound soft-cover password organizer with full color art front and back. 4 3/8 x 7 inches with 80 alphabetized and prompted pages for 240 entries of log-in and password information. A great gift for a quilting friend or family member to keep them organized and protect their information.
Creative grids rulers coming in this week - 16 1/2 inch square and 20 1/2 inch square.