Upcoming Class and more at Quilt 4U
Upcoming classes at Quilt 4 U:
Aug 12 Wilderness Animal Quilt - Class cancelled awaiting fabric - will be rescheduled
Aug 16 1:00 - 4:00 Make a T-shirt quilt with Carol - $25.00
Pickle Pie Event Sign up to make 5 cute projects on your embroidery machine - 2 day event ie Saturday and day 2 you can come either Sunday or Monday. Please let Helen know on Saturday which 2nd class you will be attending. Class fee includes a lunch each day, trunk show of Pickle Pie projects, and all fabrics to make the projects as well as a Pickle Pie tote. Dates Aug 18 and 19th or alternate Aig 20th.
Aug 21 10:00 - 5:00 Haunted House Wall hanging on the embroidery machine with Helen.
Aug 23 If second session on the T-shirt class is desired.
Aug 24 10:00 - 5:00 Sewing Class - Class English Medallion Class with Bettina
Aug 25 Q4U will be closed - will reopen on August 28th
Coming soon!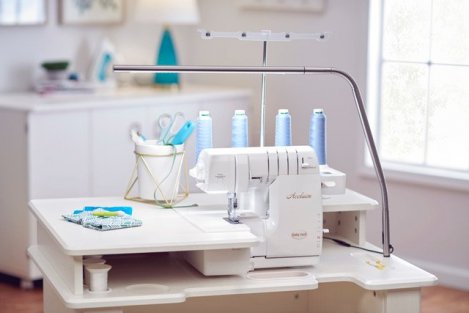 This is the new Acclaim 4 thread serger. Coming to Quilt 4U soon!