New Items - Special Price at Quilt 4 U
Although we do not plan on stocking a volume of these items, we thought some of our customers would be interested in them. Therefore, we are offering a special price on any/all that are ordered by this Friday. Postage and taxes will be added where needed.
Item #1 Cutterpillar Glow Light Tablet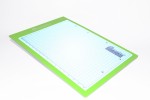 A beautifully illuminated light tablet for all of your crafting projects. This advanced LED technology offers crafters, artists, and creators alike a new way to see and engage with a project. This brilliantly lit (but always cool to the touch) work surface illuminates your medium with 3 different levels of light. Every Glow comes standard with a non-slip, self-healing cutting mat that lets you see your crafts in a whole new light.
Regular price $99.99 Advance purchase $79.99
Item #2 Cutterpillar Glow Premium Light Tablet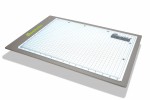 The Glow Premium comes standard with a non-slip self-healing mat and includes an internal lithium-ion battery to give you 3-4 hours of cord-free light. When you need light for your project without the hassle of outlets and plugs, the Glow Premium is the light for you! Lighted area approx. 12 x 16 - board approx. 13 x 18.
Regular price $139.99 - Pre-order $111.99
Item #3 Cutterpillar Glow Ultra Light Tablet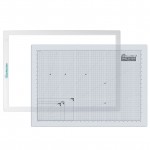 This is the BIG light table. The work surface illuminates your medium with 3 different levels of light. It comes standard with a non-slip, self-healing cutting mat and is a larger size, perfect for your fabric projects. 19 x 26 with a 17 x 24 inch lighted area. Self-healing mat and an A/C 110V power cord.
Regular price $209.99 - Advance sale until Friday $167.99
Item #4 Glow tote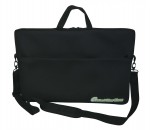 The glow tote was designed with sturdy neoprene, multiple handles, an interior divider and even a luggage strap. This tote makes transporting and storing your Glow safe, comfortable, and stylish. Each bag comes with a full size zipper, an outer pocket, and an inner divider for your Glass Mat or Self-Healing Mat. It fits the Basic and Premium Glow Models. (Item 1 or 2)
Regular Price $29.99 - Advance Sale $23.99
Item #5 Sew Steady Table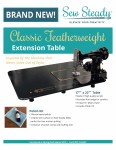 This is the Sew Steady Classic Featherweight Extension Table 17 3/4 x 22 3/4 inches. It has been made exclusively for the black Singer Featherweight 221K machine. Gold printed 16 in. metric ruler and rounded front edge. Comes with a Sew Steady Acrylic Shine.
Regular Price $139.00 - Advance Sale $111.25.
I do have a few of the Cutterpillar tables on order and they should arrive in a week. As indicated, if you are interested, please call me at 573 443 7858 and provide your name and address (if purchases need to be mailed) and cc information. We will then place the order and contact you as soon as your purchase arrives.
Thank you for being a Q4U customer.